Juneau Fishing Charters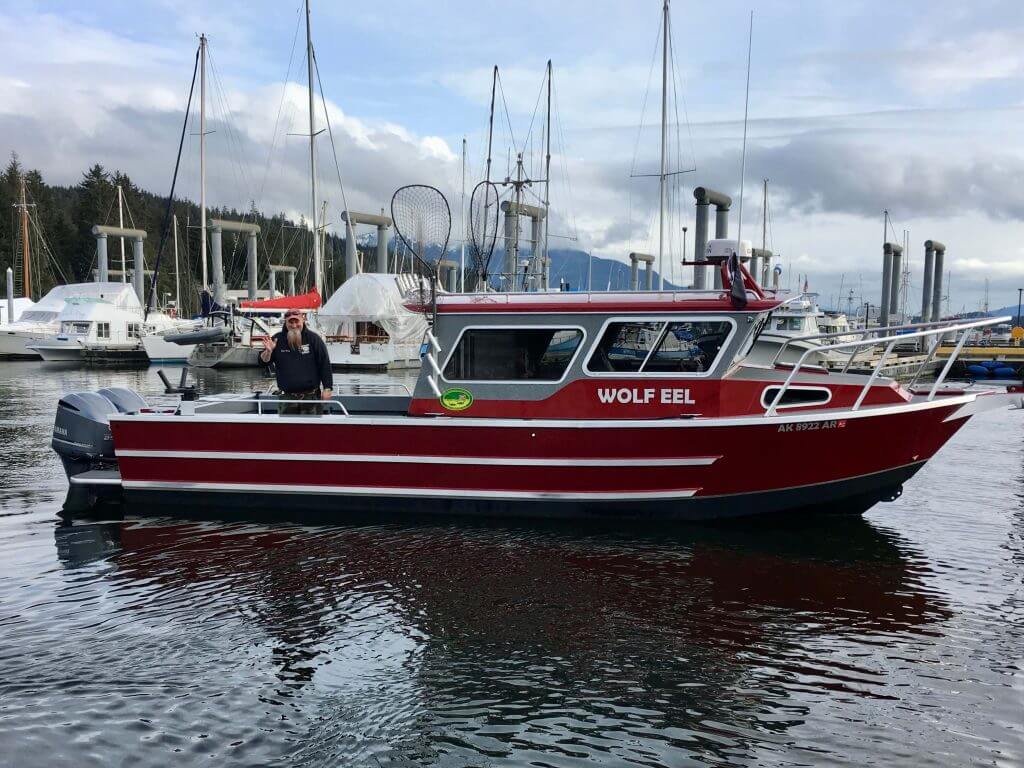 Fish with Friends! It really does make a difference!
Based in beautiful Juneau, Alaska… which makes it very easy to get here. Just a quick 2 hr flight from Seattle or a relaxing cruise up the Inside Passage! We accommodate all!
We offer private Alaskan fishing experiences in the following flavors:
4, 6, or 8 hour private Salmon experiences!
4, 6, or 8 hour private Halibut experiences!
6 or 8 hour private Salmon/Halibut Combo experiences!
6 or 8 hour Salmon/Whale Watching Combo experiences!
It's always just your family/friends on the boat!
Book Now
Use our secure checkout process. Options and pricing are visible prior to purchase.
Learn more about your captain
Capt Kevin Burchfield is your guide for amazing fishing/whale-watching experiences in the part of the Great Land known as Juneau, Alaska! Capt Kevin's trips are filled with the awe and beauty that only the Inside Passage of Alaska can deliver!
Experience Matters! Capt Kevin has operated fishing/whale watching experiences out of Juneau for 19 years and has been the President of the Juneau Charter Boat Operators Association for over 12 years, assisting in steering the industry on a steady course! Fighting for your fishing/whale watching rights!
Capt Kevin has been voted Best Guide Service in Juneau for the last TWO years in a row! Live the Dream! Come join our family! Book your Alaskan Experience today!
Half-Day Fishing
Spend four unforgettable hours on the water with Lost in Alaska Adventures. We will take you and your family on a private adventure to show you all the best fishing spots. Along the way, we'll share stories and local knowledge about Alaskan salmon, their migration patterns, and how they always find their way back home.
And, of course, we'll give you tips on the best way to catch them! A fishing adventure in Juneau isn't just for serious fishermen. If you've always wanted to take your family fishing, this tour is perfect for you. You'll be able to enjoy a day of unparalleled fishing, and the whole family will love spending a day at sea in the breathtaking waters near Juneau.
Full-Day Fishing
Are you hoping to catch a King? Or do you want to go for a grand slam and catch them all? On a full-day fishing tour at the right time of year, we'll help you attempt to catch all five – King, Silver, Sockeye, Chum, and Pink! Halibut can also be targeted on these adventures. On a full day at sea, we usually see whales, seals, and feathery friends who may be curious about your catch.
Book Now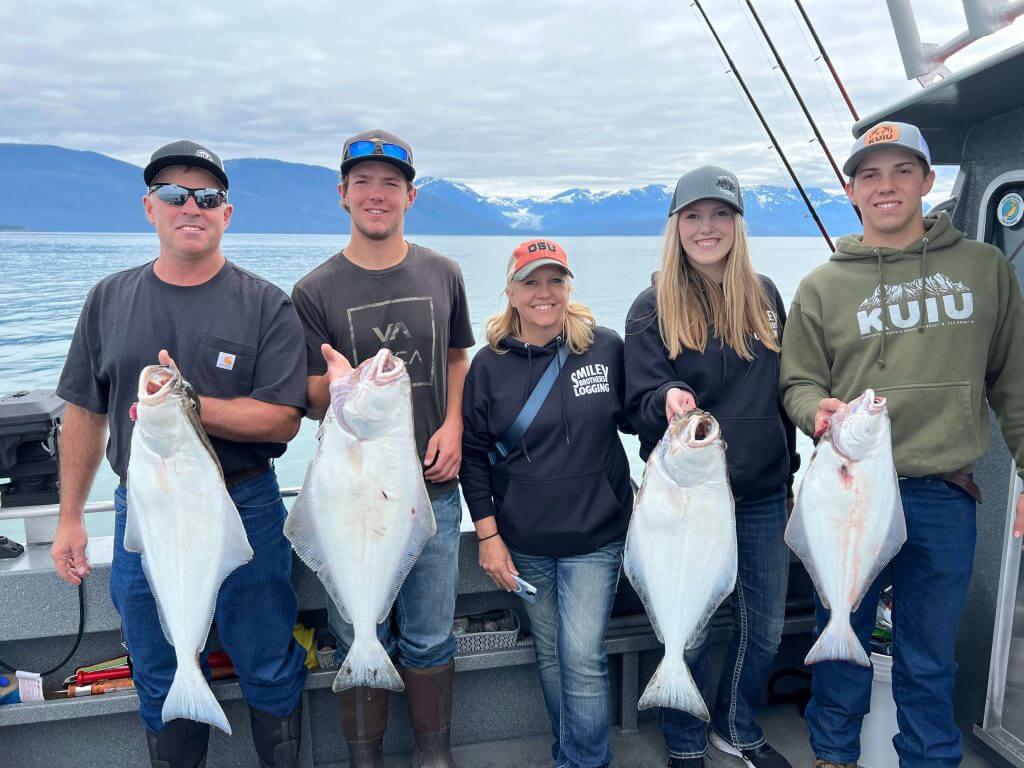 Juneau Fishing
Juneau, Alaska, is on every fisherman's bucket list. This picturesque town sits on the Inside Passage, offering easy access to saltwater fishing opportunities. Each day brings new adventures with breathtaking vistas to explore. During peak season, you'll have a fantastic opportunity to reel in a catch, and you might just hook the fish of your dreams. This Alaskan therapy will cheer you up in no time.
Saltwater fishing trips give you a chance to catch King Salmon, Silver Salmon, Chum Salmon, Pink Salmon, Sockeye Salmon, Rockfish, and Halibut. Our home port is the Fisherman's Bend dock in Auke Bay, which means we are a short boat ride to the most productive fishing grounds in our area.
Why Fish in Southeast Alaska?
Juneau is a top fishing destination that draws local and international travelers. Southeast Alaska, also called the Inside Passage, is a narrow coastal strip that covers almost 500 miles. It runs from Yakutat in the north all the way down to Ketchikan in the south. The area is best known for fjords, inlets, islands, rugged mountains, old-growth forests, and calm waters that attract countless fish and other wildlife. The waters around Juneau are teaming with life. You'll find salmon, halibut,  orcas, seals, and even humpback whales.
This unspoiled landscape offers incredible fishing opportunities you can't find anywhere else. Each month, you'll find a variety of saltwater fish everywhere you turn. Juneau, Alaska, is also home to spawning grounds of all five Pacific salmon.
An Unforgettable Fishing Experience
Whether you're visiting Juneau for a day on a cruise ship or a weeklong adventure on your own, our goal is to create an unforgettable fishing experience. Take in the breathtaking mountains and glaciers above, and check out the awe-inspiring whales below as we sail to the perfect fishing spots. Juneau has some of the world's best sportfishing, along with unparalleled whale watching. Set in the sheltered Inside Passage, you can enjoy a day on our usually calm seas without battling the rough waters or large swells of the open ocean.
Juneau is a Spectacular Whale Watching Destination
Get ready for an epic adventure in Juneau, Alaska! We offer private whale-watching tours so you can experience nature in a whole new way. If you've never seen a whale up close and personal, now is your chance. Come with us on a once-in-a-lifetime experience that will take you alongside these majestic creatures.
From May to September, the waters around Juneau fill with humpback whales who spend several months in the calm waters of the Inside Passage.
Whales feed in the waterways near Juneau. These nutrient-rich waters team with wildlife during the summer months. Humpback whales feed in our waters in preparation for their long trip south. Every fall, they begin their migration to Hawaii to find a mate.
Book a 2.5- or 4-hour private whale-watching adventure and get up close and personal with some of the whales that share our waterways.
Book Now
Peak Season for Salmon
Salmon congregate around Juneau every summer. King Salmon are often the first to arrive in May. As the summer season gets underway, King Salmon, Pink Salmon, and Chum Salmon fill the sea around Juneau, Alaska. From July through September, Silver Salmon run as well.
July and August are the peak season for Salmon and Halibut fishing.
Throughout the summer months, you can catch all five Pacific Salmon, and we know exactly where to find each fish.
Halibut Fishing in Juneau
Halibut fishing is offered from June through the end of August and is quite the experience! Often fishing in excess of 300 feet. We'll take you to some of the most beautiful spots in Juneau, Alaska, where you can enjoy breathtaking views and plenty of bites.
What are the different types of salmon?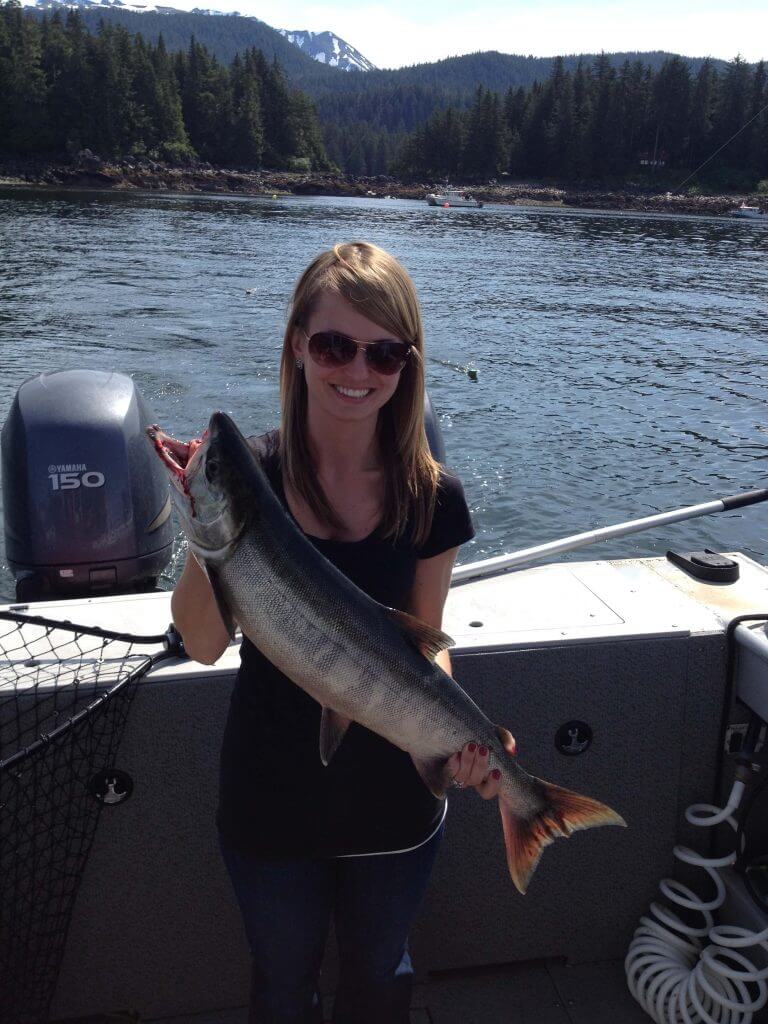 Salmon in Juneau
It's no secret that fishermen flock to Juneau to catch salmon. Five species of Pacific salmon return to the waters of Juneau each year. They return from the sea to the Alaskan streams each summer to battle the currents, jump waterfalls, and dodge fishermen to reach the spawning beds where they were born.
King Salmon
Fishermen from around the world visit Juneau, Alaska, to hook a King Salmon. Also called Chinook, King Salmon ranges from the coast of California to the Aleutian Islands, and they make their way back to our waters every spring.
King Salmon have steel-blue back and silver sides and large black spots on their dorsal fins and sides. These massive fish usually remain at sea for about five to seven years before returning to Alaska to complete their life cycle. When they leave the sea and enter freshwater, their coloration changes to a bright red or purple.
Silver Salmon
Silver Salmon are much smaller than King Salmon. They average between 6 to 10 pounds and can reach up to 20 pounds. Nicknamed Cohos, Silver Salmon have a light blue or gray coloration. During spawning, the Silver Salmon develops a green hue on the head, and their body darkens to a maroon or brown.
Sockeye Salmon
Sockeye Salmon are smaller fish that average just 4 to 8 pounds. Even large Sockeye Salmon rarely reach 15 pounds. Sockeye at sea have dark blue backs, with silver sides. Spawning sockeye turn a brilliant red, while their heads transform to dark green. This brick-red coloration is why Sockeye Salmon are also called Red Salmon.
Chum Salmon
Chum Salmon, or Dog Salmon, range in size from 7 to 18 pounds. Some can reach up to 30 pounds. Chum Salmon are dull gray with some yellow coloration on their sides. When spawning, they turn olive green with maroon or dull red patches on their sides. Their nickname comes from their teeth, which resemble dog teeth during spawning.
Pink Salmon
Also called Humpies, Pink Salmon are the smallest of all the Pacific salmon. They're just 3 to 4 pounds! Despite their small size, these tenacious fish also travel from California all the way back to Alaska to spawn. Pink Salmon have large dark spots on their back. When they enter freshwater, the males develop a very pronounced hump on their back, with a white belly underneath.
Ready to go fishing in Juneau, Alaska? We fish from May to September, offering unforgettable Alaskan adventures. Whether you want to reel in a King salmon or snag some halibut, we've got you covered.
Get Hooked on Fishing
Join Lost in Alaska Adventures for a four-hour, six-hour, or eight-hour fishing charter adventure in Juneau and see what all the fuss is about! We'll help you get your fishing license and make sure you're prepared for whatever the weather has in store. Fish in the quiet waters of the Inside Passage – catch glimpses of wildlife and bask in the beauty of Alaska.
Lost in Alaska Adventures is a proud member of the Juneau Charter Boat Operators Association.
Book Now